ICS Blog Hop Monochromatic Mania
Howdy!
It's the first Wednesday of the month…so that means it is time to hop with the Inspire, Create, & Share ladies! WooHoo! This month's theme is monochromatic: 'containing or using only one color,' according to the dictionary. Monochromatic is not something I do often. I like lots of color! However, this was good for me to get out of my norm and do something different! Whisper White or Very Vanilla were ok to use as well. Although, sometimes you will see monochromatic art with black as a shadow. I might give that a whirl sometime, too.
I had gotten a Halloween card using this new fold and thought it was high time I made one myself…so why not for monochromatic? I chose Lovely Lipstick for my color with some Whisper White cardstock and the Parcels and Petals stamp set. Here is what I came up with…
I love the little flap! I'm going to make another of these turned on it's side. Started that way with this one at first, but the sentiments were not working out in my favor.
Using the 'stamping off' technique is an absolute favorite of mine! Using it here makes the whole idea of monochromatic easier for me. Ink once and then stamp until the color is gone…it gets lighter as you go, obviously, and is still using 1 color = monochromatic!
Here is what it looks like when it opens…
Feel free to click on the above blue writing to have it take you straight to my store and look over the supplies I used to make this simple card! And make sure you check out the brand new paper trimmer from Stampin' Up! It cuts smooth as silk! More info below!
If you are interested in the measurements for the card, please comment below or email me at junebugcreations29@gmail.com and I will get them to you! It really was quite simple to make!
Now it is time to hop on over to Dana Sullivan's blog and see what she has in store for you! Enjoy your hop!
Thank you for reading and taking this crafting journey with me! It's nice to have you along! Enjoy your own Stampin', Scrappin', and Craftin' journey! Please leave a comment and let me know your thoughts about this project. Feel free to CASE my projects and share them in the comments below! I love to see what others create! 
Supplies Used
  Click on any blue words and it will take you to my store and show you pictures and prices. If you don't currently have a demonstrator, I would be blessed to have you as a customer!
This new trimmer is so Ah-Mazing!! Cuts so smooth! Love it!! It has BOTH centimeters and inches on it!! So when you find that really cool card or 3D project online and it's only out there in centimeters…no more conversion tables and almost getting it perfect!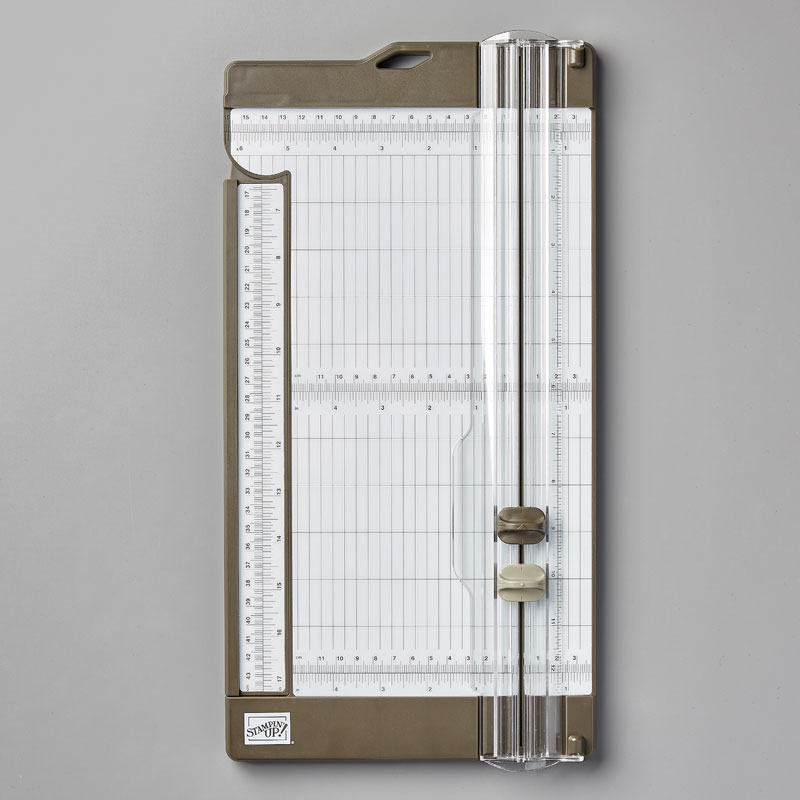 When you place an order, please use the NovemberHostess Code N2A9KG9F.  Any orders of $25 or more will receive a handmade 'Thank you' card from me! 
If you place an order of $150 or more, please enjoy your well earned rewards and a handmade 'Thank you' card from me!! Thank you so much!
You all know I LOVE, LOVE, LOVE Paper Pumpkin so CLICK the picture below to see the cute new video they made!
Here is a great reason to Subscribe Before November 10th! Below is a description of what you are going to get… 😉
November Kit details:
Makes 24 holiday-themed gift tags of 4 various sizes and designs.
Coordinating colors: Early Espresso, Pool Party, Poppy Parade, and Shaded Spruce
If you like what you see then you will definitely want to sign up for Paper Pumpkin! Contact your demonstrator to get started or ***CLICK HERE*** to subscribe with me as your demonstrator. I would be happy to have you in my Paper Pumpkin Club!
Ready for the holidays this fall? Check out the awesome new Holiday Catalog! Just CLICK on the picture and be whisked away to stampin' dream land!
Updated regularly! Check often! While supplies last! They just put STAMP SETS on here for the first time…click on the banner and go check them out! Remember to use the Hostess Code, please!
Click here to go to the New Annual Catalog! Get ready to drool!
🙂
Ongoing
Click on the picture to watch a video about the: