PPP Blog Hop – Winter Gifts
Howdy, Everyone!
Happy Thanksgiving Week! I wish you all much fun with your family time! If you are taking a break from the family…I trust you enjoy this little hop through some creative projects with the ladies of the Paper Pumpkin Possibilities Blog Hop. This month's kit was a coordination with last month's kit. They were both absolutely gorgeous!!
I am making most of last month's cards as is, and many of the tags from this kit as well! They are just too beautiful not to!
That being said…I thought they would all make a lovely Winter decoration for my house, so I created a Sampler type project. I had this frame from Adorn It, that I bought when I lived in Tucson, over 5 years ago! It was definitely time to use it!!
I painted it white…
Then added some background papers for the tags…keeping in mind storing it in a plastic bag safely to reuse each year!
Here is how it turned out
What do you think?? I'm loving it!! Although, I feel like something is missing…so I will give it a day or two and see if I make any additions. It's my first "Sampler," but probably not my last!
Ok, time to hop on over to my dear friend Darla Roberts and see her fantastic creation!
Thank you for reading and taking this crafting journey with me! It's nice to have you along! Enjoy your own Stampin', Scrappin', and Craftin' journey! Please leave a comment and let me know your thoughts about this project. Feel free to CASE my projects and share them in the comments below! I love to see what others create!
Supplies Used:
If you don't currently have a demonstrator, I would be blessed to have you as a customer! Click Here to Shop Now
November Paper Pumpkin kit

October Paper Pumpkin kit

Wrapped in Plaid DSP (Holiday Catalog)

Real Red 12×12 card stock (Annual Catalog)

Night of Navy card stock (Annual Catalog)

Clear Rhinestones colored red with the Dark Cherry Cobbler Stampin' Blends (Annual Catalog)

Adorn It frame (not Stampin' Up!)

White paint (not Stampin' Up!)
This new trimmer is so Ah-Mazing!! Cuts so smooth! Love it!! It has BOTH centimeters and inches on it!! So when you find that really cool card or 3D project online and it's only out there in centimeters…no more conversion tables and almost getting it perfect!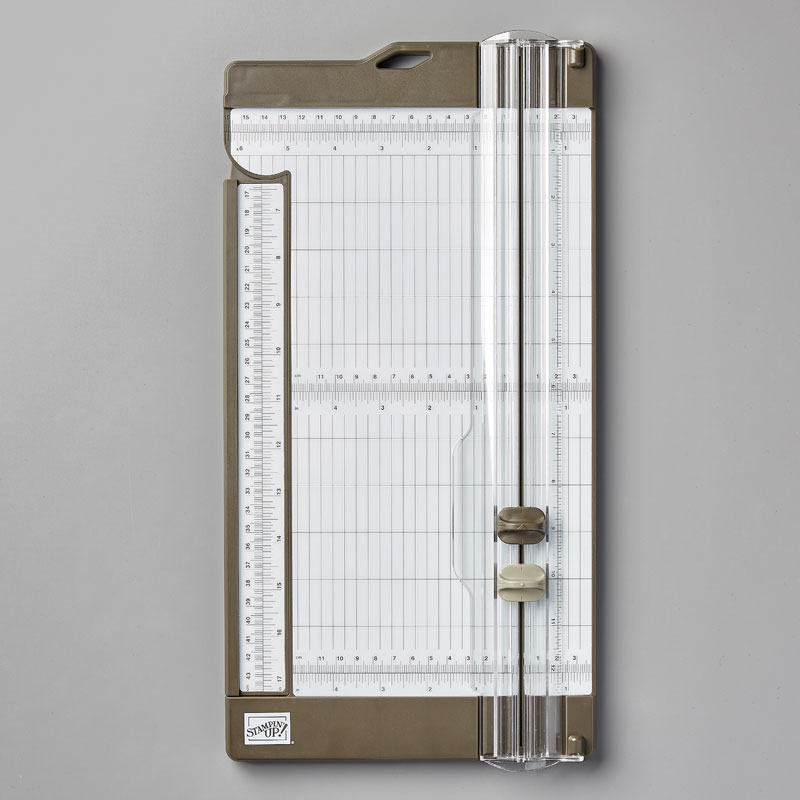 When you place an order, please use the NovemberHostess Code N2A9KG9F. Any orders of $25 or more will receive a handmade 'Thank you' card from me, that you can reuse! I'll put my message to you on a post it note and then you can share the card if you wish!
If you place an order of $150 or more, please enjoy your well earned rewards and a handmade 'Thank you' card from me!! Thank you so much!
You all know I LOVE, LOVE, LOVE Paper Pumpkin so CLICK the picture below to see the cute new video they made!
Here is a great reason to Subscribe Before December 10th! Below is a description of what you are going to get… 😉
December Kit details:
Makes 12 cards and envelopes
Card size: 4 1/4″ x 5-1/2″ (10.8 x 14 cm)
Envelope size: 4-1/2″ x 5-3/4″ (11.4 x 14.6 cm)
Coordinating colors: Crushed Curry, Grapefruit Grove, Old Olive, Shaded Spruce, Terracotta Tile
If you like what you see then you will definitely want to sign up for Paper Pumpkin! Contact your demonstrator to get started or ***CLICK HERE*** to subscribe with me as your demonstrator. I would be happy to have you in my Paper Pumpkin Club!
Ready for the holidays this fall? Check out the awesome new Holiday Catalog! Just CLICK on the picture and be whisked away to stampin' dream land!
Updated regularly! Check often! While supplies last! They just put STAMP SETS on here for the first time…click on the banner and go check them out! Remember to use the Hostess Code, please!
Click here to go to the New Annual Catalog! Get ready to drool!🙂
Ongoing

Click on the picture to watch a video about the: