Saying Goodbye to Colorful Seasons
Howdy!
Just a quick post again, then back to packing. Can you tell what I would rather be doing than packing? 😉
Colorful Seasons is one of those stamp sets that I have used quite a bit, but still feel like there is more I could do with it! Time has run out…although I have a feeling this will end up in my stash forever…it will be perfect for my scrapbooking!
It is an amazing stamp set and has lovely dies that go with it! (as I was looking to link these to the store…I discovered that the dies are sold out. Bummer! Stamp set is still available, though! Hurry!)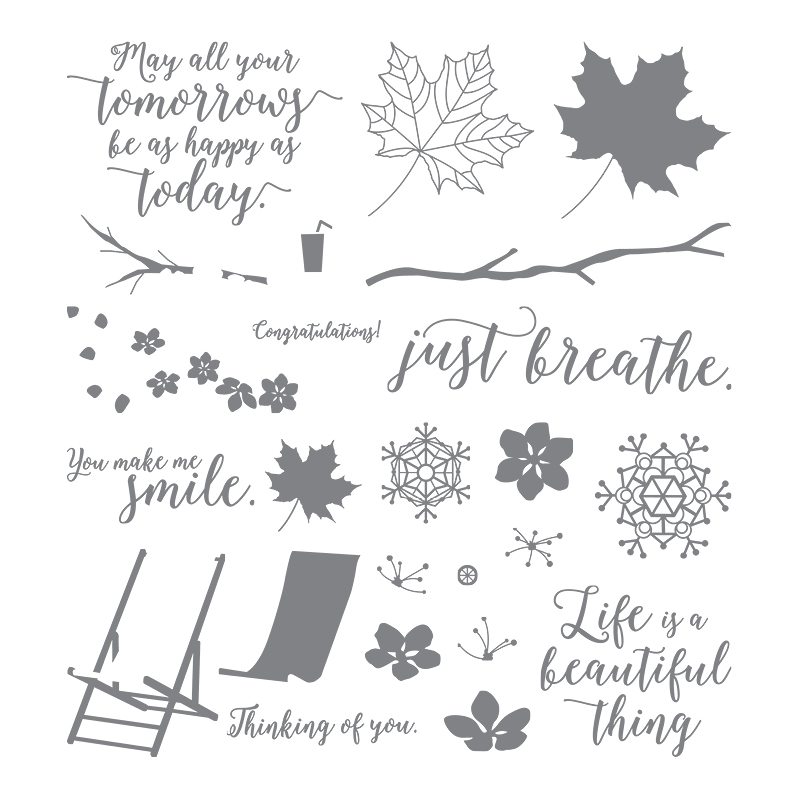 Here are some cards I recently made with this set! 
This first one I made using the stamps. There is some 2 step stamping involved and it turned out great! This was the other style card that we made for my Hostess Club. Again, they had to use their own stamps and ink. I'll have another post later on about the cards from Hostess Club. I am loving the Crinkle Seam Binding ribbon because you can make it any color you need! Perfect!
This card used the chairs from the dies (I'm so sad you can't get them anymore!) I also used the retiring 2018-2020 In Colors for this card. I challenged myself to use the Pineapple Punch since I am not much of a yellow girl. I like how it turned out! I love that I was able to change the color of the Pearlized Doilie to be yellow as well. Gotta love Stampin' Up!s knack for making things easy to match! WooHoo!
The sentiment is from Stampin' Up! who is committed to making a difference in our global communities and caring about people first. As part of our Making a Difference program we're offering a product giveback opportunity to support organizations that are helping COVID-19 frontline responders and communities vulnerable to the pandemic.
You can purchase the Share Sunshine PDF Download and we will donate 100% of the proceeds to COVID-19 efforts.
The Share Sunshine PDF Download is a digital stamp set that's packed with both lighthearted and heartfelt sentiments and imagery relevant to the unique COVID-19 and social distancing situation we're currently experiencing–including many ideas that came from demonstrators and customers! You can use the download in your cardmaking and papercrafting projects. Simply print the imagery on cardstock and cut it out using our Paper Trimmer, punches, or dies. Since we are physically distanced from each other, now is a perfect time to share sunshine with our friends and family by sending cards!
Click on the picture or go to covid19.stampinup.com to get yours now. I bought a set in German and English so I can make cards for my family and friends in Germany…GET YOURS NOW, it's only $12!
Thank you for reading and taking this crafting journey with me! It's nice to have you along! Enjoy your own Stampin', Scrappin', and Craftin' journey! Please leave a comment and let me know your thoughts about this project. Feel free to CASE my projects and share them in the comments below! I love to see what others create! 
Supplies Used to make card:
Click on any item you want to check out and it will take you to my store and show you pictures and prices. If you don't currently have a demonstrator, I would be blessed to have you as a customer!
When you place an order, please use the

May

Hostess Code PS7TW9PN

. Any order will receive a handmade 'Thank you' card from me! Any orders of $50 or more will receive a handmade 'Thank you' card from me and a pack of Clear Rhinestones!
If you place an order of $150 or more, please enjoy your well earned rewards and a handmade 'Thank you' card from me and the pack of Clear Rhinestones!! Thank you so much for letting me be your Stampin' Up! Demonstrator!
You all know I LOVE, LOVE, LOVE Paper Pumpkin and here is some fun and exciting news to share about this amazing kit!
Paper Pumpkin was recently ranked 12 in the top 20 Best Art & Craft Subscription Box Review by My Subscription Addiction!
My subscription addiction is a website that reviews and provides information on all sorts of subscription boxes. It is kind of like a hub for people who really love subscription boxes. You can check it out here:
https://www.mysubscriptionaddiction.com/best-subscription-boxes/best-craft-boxes
These rankings are based on votes by readers of the My Subscription Addiction blog/website.
Here is a sneak peek at June's Paper Pumpkin kit from Sara Douglass herself, CEO of Stampin' Up! She helped create this box!
Don't miss out on June's kit!! Sign up NOW! Contact your demonstrator to get started or *CLICK HERE* to subscribe with me as your demonstrator. I would be happy to have you in my Paper Pumpkin Club! Don't delay!
Click on the link below to see a video of the new Ornate Garden Suite just released by Stampin' Up! and available for a short period of time!

Then click on the picture to be taken to my store to see all that it has in it!
https://www.youtube.com/watch?v=36hb6qnIXpU&feature=youtu.be
CHECK OUT THE ITEMS THAT ARE GOING, GOING, GOING…GONE WHEN SUPPLIES RUN OUT OR JUNE 2…WHICHEVER COMES FIRST! Click on the picture to be taken there right away!

Remember to use the Hostess Code, please!
Updated regularly! Check often! While supplies last! They just put STAMP SETS on here for the first time…click on the banner and go check them out! Remember to use the Hostess Code, please!
Click on the picture to watch a video about the: