ICS July Blog Hop – My Favorite Bundle
Howdy Everyone!
I am back! 2nd time out of 3 hops this week! Are you excited?! I am!
This is the fun Inspire, Create, Share Blog Hop and always the 1st Wednesday of the month! I can't believe it is July already! EEK! Where is the year going?
We are showcasing our favorite bundles this week! When you order a Bundle you save 10% rather than ordering the items separately! How awesome is that?! Below I have a list of all the stamp set and punch or dies bundles in this new catalog! Or CLICK HERE to see every Bundle in the catalog now! They are amazing!
The bundle I am showcasing is the Peaceful Moments Bundle. It is a carryover from the Spring Mini.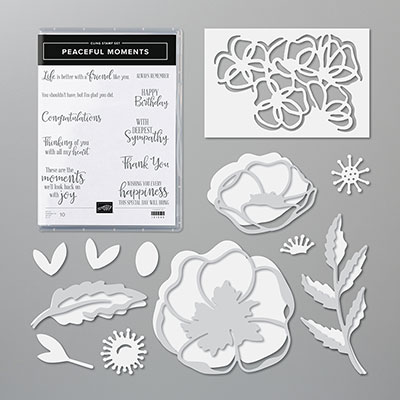 I love this bundle and have become even more enamored of it because I saw my first poppies in person ever! I have a big patch of them in the middle of my new yard and 2 smaller patches on the side of the house! They were amazing to watch grow and bloom! The stamps and dies are truly realistic! Here are the poppies from my yard…
It was interesting to see the differences between the flowers from the different patches. One had the dark insides and 1 layer of petals…that's my favorite…the big patch has some flowers with many layers of petals and other flowers just had one layer of petals. I fell in love with poppies for sure!!
Here is my version…
I used some Wink of Stella on the poppies to give them a little more pizzazz because I love them so much! 😉
I used a number of the inside layers to capture the depth of the real ones. I think I came pretty close!
That is it for me tonight! Now it's off to see what Anastasia Radloff has created with the Whale Done bundle. It's one of the ones on my shopping list, too!
Thank you for reading and taking this crafting journey with me! It's nice to have you along! Enjoy your own Stampin', Scrappin', and Craftin' journey! Please leave a comment and let me know your thoughts about this project. Feel free to CASE my projects and share them in the comments below! I love to see what others create! 
Blessings, June
Challenges this card has been entered into:
Supplies Used to make box:
Click on any item you want to check out and it will take you to my store and show you pictures and prices. If you don't currently have a demonstrator, I would be blessed to have you as a customer!
When you place an order, please use the July Hostess Code ZM7NYA3M . Any order using this Hostess Code will receive a handmade 'Thank you' card from me and a

sheet of Dimensionals

to show my appreciation.
If you place an order of $150 or more, before tax and shipping, please don't add the hostess code. Enjoy your well earned Stampin' Rewards!
Thank you so much for choosing me to be your Stampin' Up! Demonstrator!
Here are the stamp set and either punch or dies bundles. You can click on any one of them and it will take you right to my store! Happy Shopping! Remember, it's
For every $50 you spend in July, you get a $5 coupon to redeem in August! 
You all know I LOVE, LOVE, LOVE Paper Pumpkin and here is some fun and exciting news to share about this amazing kit!
Paper Pumpkin was recently ranked 12 in the top 20 Best Art & Craft Subscription Box Review by My Subscription Addiction!
Here is a sneak peek at July's Paper Pumpkin kit! How fun it looks!
ABOUT THE JULY KIT
Summer Nights
Kit contains enough supplies to create nine postcards and coordinating envelopes, as well as nine die-cut tealight bags.
Coordinating Colors: Blackberry Bliss, Calypso Coral, Costal Cabana, Night of Navy
***The Paper Pumpkin kit does not require the add-on to create completed projects. ***
ABOUT THE SUMMER NIGHTS ADD-ON
Summer Nights Add-On
Contains 24 preprinted card bases and coordinating envelopes.
***The Summer Nights Add-On is not required to complete the Paper Pumpkin kit projects.***
Don't miss out on July's kit!! Sign up NOW! Contact your demonstrator to get started or *CLICK HERE* to subscribe with me as your demonstrator. I would be happy to have you in my Paper Pumpkin Club! Don't delay!
HERE'S THE NEW ANNUAL CATALOG! CHECK IT OUT!
IF YOU WANT TO HAVE AN ACTUAL CATALOG TO HOLD IN YOUR HANDS, COMMENT BELOW OR ZIP ME AN EMAIL AT

junebugcreations29@gmail.com

AND I WILL BE HAPPY TO SEND YOU ONE!