SU! Card Swap – Card #1
Hello out there in internet world!
Yes, I have been slacking in the blogging department. It is really something I need to focus on! School started here in Montana and I had wished for 2 weeks of 'Me Time' before starting to substitute and only got 2 Days!! Can you believe it? I was covering teachers for meetings and for testing. I have subbed everyday since! Yikes!
In the meantime, I had signed up for a Card Swap using products from the new Holiday catalog or the Annual catalog. I found a stamp set in the Holiday Catalog called Still Night bundled with thinlits and I am challenging myself to do all four cards using this set.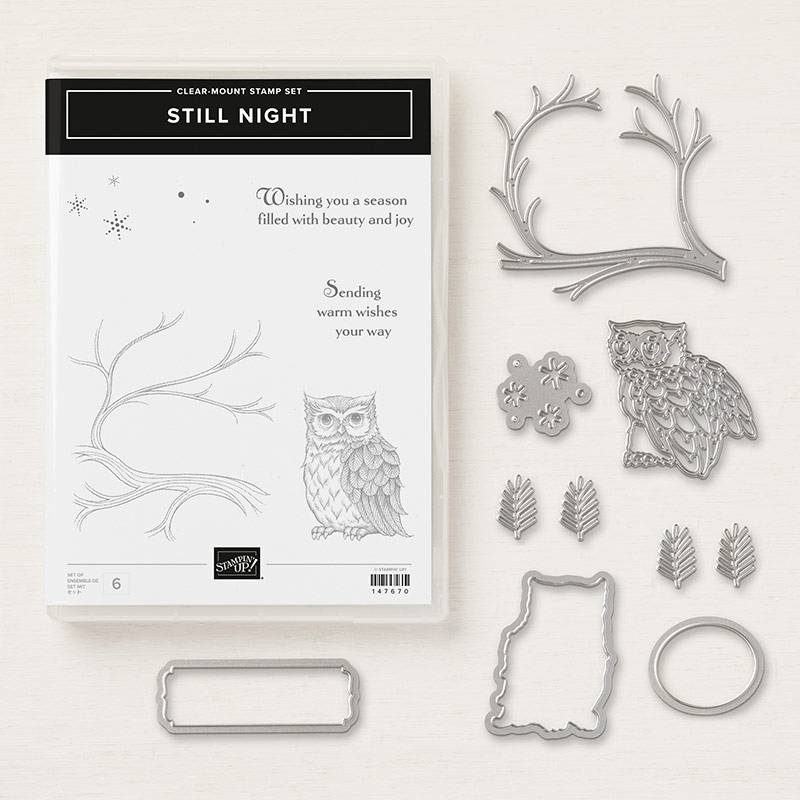 That is really a challenge for me!! One I put upon myself, though, and I am loving it! It started as only with this stamp set, but then I figured I needed to be able to use a couple other stamp sets to cover all my categories. "Sending warm wishes" just was not going to work as a Halloween sentiment! 😉
Of course, before I got my stamp set ordered and delivered I had all kinds of ideas in my head about what I would do for my cards! I had signed up for these 4 categories:
Halloween (this stamp set screams it!)
Christmas (not too big a stretch with the snowflakes, branches, and pine needles, right?)
Grateful/Thankful or Thank you (I'm sure, I can think of something)
Big Shot show case (lots of things to run through a big shot and use as a focal point on a card, right?)
Yeah, so then it took me awhile to order, receive, and sit down with the set and make cards…by that time…they (ideas) had all slipped right out of my head and it was blank! Yep, blank! I never sketched out any of my ideas and I came up empty when I finally made the time to sit down and play!! OH< NO!! I have a deadline here folks! My 44 cards (11 of each category) need to be in the mail by the 14th, at the latest, to reach the other side of the country by the 20th of September! Yes, I am pushing the limits here, especially with having the sub jobs start so soon and only 3 of 4 prototypes done!!
So, what do you do when you go blank? You turn to Pinterest! There was not a thing on there with this set! Can you believe it?? I searched the stamp set name and got all the Bethlehem cards, that stamp set isn't even called Still Night, it's called Night in Bethlehem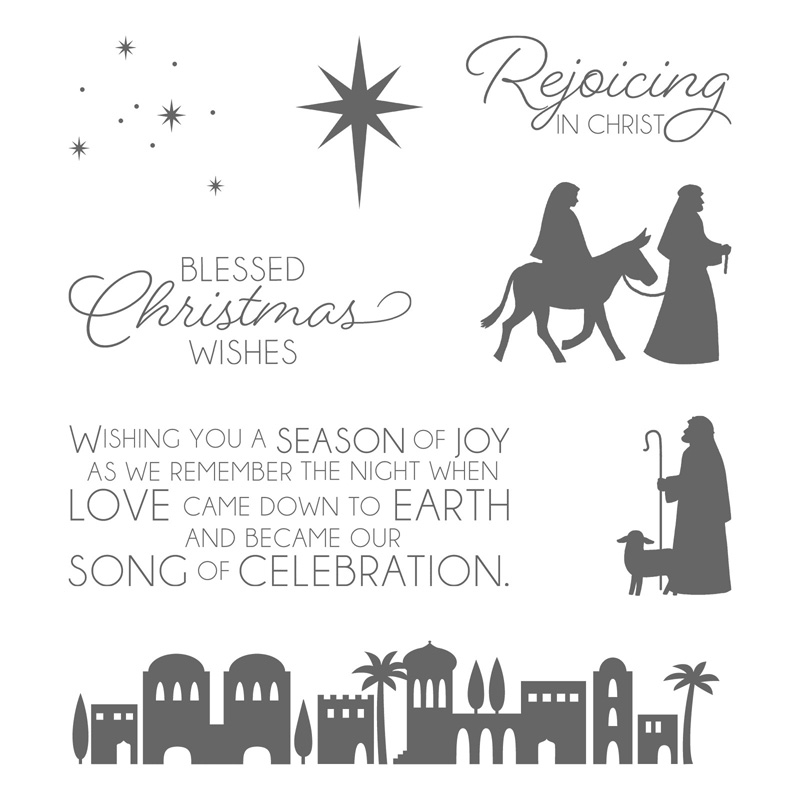 Um, that is not the same stamp set! Right?! I even put 'Still Night with owl' and 'owl cards' came up empty handed! That tells me, I need to make sure these four cards get to Pinterest just in case anyone else wants some ideas for this set!
I began to play around with the stamp set and thinlits and then ideas started to roll around again in my head. I made the Halloween card since that one had not completely left my brain…just partially. I'll tell you about that one in another post.
Then I figured I would continue in season/theme order…Grateful/Thankful or Thank you card…hmmm…what ever was I going to do with that? There were no leaves in this set, so I pulled out my Colorful Seasons set (wishing now that I had also bought the thinlits as well! Darn it!)
So, now I have 2 stamps sets…what the heck am I going to do with them and not make the card look the same as the any of the others I had been sketching out (as ideas came to me). This card had no sketches! Total blank!
When Pinterest can't help me, the next thing I do when I am stumped and drawing a blank is to go to my favorite challenge blogs! They provide inspiration and motivation! And, happily, after deleting a number of them that have closed…I found inspiration in the form of a sketch from CAS(E) this Sketch! CASE stands for Copy And Share Everything in the Stampin' Up! world..and maybe elsewhere, but I learned of it from SU!. CAS means Clean and Simple which has a couple "rules," such as, 1 main focal point, lots of open space, minimal layers, and minimal embellishments. There are some other CAS challenge blogs that I like as well. I think (but am not 100% sure) that CAS(E) is a combo of these 2 ideas with a sketch thrown in. Works for me! And my card!
I also loved the fact that Brian King created this sketch and he is an amazing Stampin' Up! demonstrator!
Here is my take on this sketch!
I was pleased with how it turned out! What do you think? I can take it! Be honest!
For the Card Swap, I had to have a base + 2 layers and embellishments. It's kind of hard to see here, but there are some of the Basic Adhesive Backed Sequins on there as well in the diagonal leaf design.
For this card I used Soft Suede cardstock as my base cut 5 1/2″ x 8 1/2″ and scored in the middle at 4 1/4 inches.
2nd layer is Very Vanilla cardstock cut at 5 1/2″ x 4″. The diagonal was made using painters tape on each side and measures about 1 5/8″ wide. I used the leaves form the Colorful Seasons stamp set and made a mask of the large leaf and the small leaf, hence the wishing I had gotten the thinlits! No fussy cutting would have needed to happen. (Note to self: buy thinlits when there are some with any stamp set I buy!!) The ink colors I used for the leaves are Real Red, Cajun Craze, Pumpkin Pie, Grapefruit Grove, and Mossy Meadow. I know, now you want more pictures of how I did it and maybe more explanation. I'm thinking in a later post will go more into detail and I will make more pictures as I do the rest of the cards. This is only my prototype! I have 11 of these babies to make! I'll be a busy girl this weekend, let me tell you! I will make sure to take pictures of all my steps and then post about it again! I am making a note right now! Done!
I distressed, using a dauber and Pumpkin Pie ink pad the edges of this Very Vanilla cardstock to help frame it. Yes, I do like doing that on almost all my cards, thank you for noticing! 😉
The owl is cut using the Big Shot and thinlit from a piece of Crumb Cake cardstock and is stamped with Soft Suede ink. The branch is cut from Soft Suede cardstock. No stamping on the branch. The branch stamp and the thinlit branch do not match.
Inside my card I used Very Vanilla cardstock cut at 5 1/4″ x 4″ and also distressed (edged) in Pumpkin Pie. Then I used part of the larger leaf in Pumpkin Pie and then Cajun Craze for the spines of the leaf. Mossy Meadow is the color of the little wispies (not sure what to call them…they made me think of all the white wispy seeds that seem to be floating around on the breeze in the fall here). The sentiment is stamped in Cajun Craze ink and from one of the new stamp sets called Love What You Do. See, I needed a 3rd stamp set for this card. But, that is actually a good thing for me since I am not usually one to mix up stamp sets! This was turning into a mega challenge of using one stamp set on all 4 cards, as well as mixing up stamp sets! WooHoo! I am out of the box on this one!!
Other than going over in detail how I made that diagonal falling leave strip, I think I have told you all about my card. I am happy to enter it into challenges and am very thankful for the inspiration from Brian King and the folks over at CAS(E) this Sketch!
Until next time!
Happy stampin', scrappiin', and craftin'!!
Blessings, June
If you would like any of the supplies that I used to make this card, feel free to click on the blue text above or go to juneolsen.stampinup.net
Challenges this card has been entered into:
CAS(E) this Sketch – CAS(E) this Sketch #287
613 Avenue Create – Challenge 213 Anything Goes / Optional Twist Clean and Simple
A Bit More Time To Craft – Challenge #75 – Anything Goes