Happy 50th Birthday, Hubster!
Howdy!
Last month was my Hubster's 50th birthday so I wanted to make a very special card for him. I had seen the cards that look like stuff popping out of the box, so I researched and found a tutorial…and now I want to show it off.
It's called a Pop-Up Box Card and here it is…
I used the Geared Up Garage Bundle and Classic Garage 6×6 DSP to make it along with a 12×12 sheet of Basic Gray cardstock.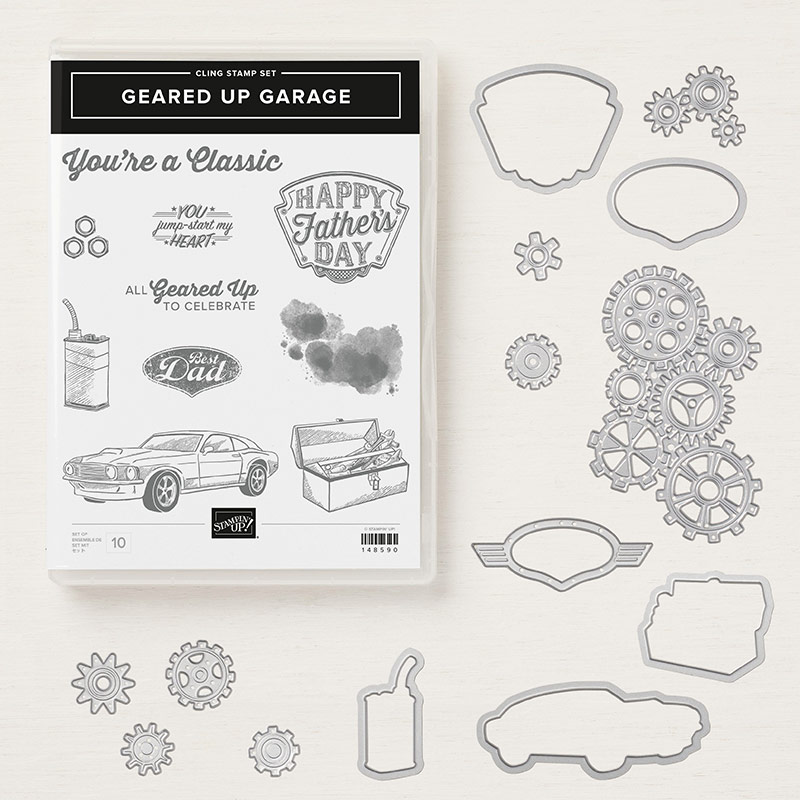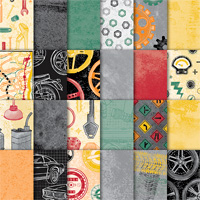 This is definitely my favorite stamp set and framelit bundle in the Occasions catalog! This card was a challenge, mainly because I could only find 1 (very confusing!) tutorial video that used inches instead of cm. My scoring board doesn't have centimeters, so I had no choice but to use the video. It took me so long because I had to stop and start it repeatedly. My first tutorial, when I get my video set up in place, will be this kind of card! I will make it simple and easy for you!
Here are some other pictures of the process:
After making the card, I had to make a special envelope to go with it! I found some retired 12×12 envelope paper and made my large envelope using the Envelope Punch Board. I love this thing! I make all my envelopes with it! Then I decorated the outside with some stamps from this set and a retired alphabet that I use mostly in my scrapbooking because of it's size.
Besides the DSP and Basic Gray cardstock, I added some Real Red cardstock for the 50 and I used the Balloon Bouquet Punch for the balloons I cut out of the DSP. I also used white embossing powder on the black cardstock sports car. Hubster really liked how that turned out when I had made it for my first Geared Up Garage car (you can see it here), but then didn't use it knowing I would want to use it on his card.
That's all I have for now. I think I will call it good and move on to posting the other cards I made using this wonderful bundle! Thank you for reading and taking this crafting journey with me! It's nice to have you along! Enjoy your Stampin', Scrappin', and Craftin' journey and feel free to share and CASE with me! I love to see what others create!
Current Happenings with Stampin' Up! Click on any picture to get more information!
If you have been thinking about signing up for the awesome Paper Pumpkin monthly kit, NOW is the time! Next month is Paper Pumpkin's Birthday and they always do something extra special for their birthday! This year it is a second stamp set in each kit! I love that it's a surprise as to what theme I get in my box each month, and yet it is nice to have little hints like they did last month. This time they are telling us this to get us excited:
The March kit features eight full-sized, mailable cards

Coordinating colors are Basic Black, Bermuda Bay, Daffodil Delight, Flirty Flamingo, and Poppy Parade

This kit has an element that is sure to "pop"! 

The FREE stamp set is even bigger and better than your typical Paper Pumpkin stamp set and can be used on a variety of crafting projects.
I'm thinking the "pop" may mean a pop up card. What do you think? I'm excited, are you?!?!
Contact your demonstrator to get started or CLICK HERE* to subscribe with me as your demonstrator. Oh, and do you like FREE products? If you buy 3 months of Paper Pumpkin Prepaid, you get a Sale-A-Bration item! Find out more HERE
Until March 31st
Click on the picture to watch a video about the new tote, then ask me how to get yours NOW!

If you were still wanting some items from the Holiday catalog…check this out!
Click on the picture to watch a video about the:
Updated regularly! Check often! While supplies last!
Ongoing
Until May 31, 2019
Challenges this card has been entered into: