Paper Pumpkin April Alternate
Howdy!
Yes, it has been quite awhile since I have been on here and I have missed a few blog hops as well. I am sure you will all agree that life sometimes gets in the way of things we would rather be doing to do the things we need to be doing! I won't bore you with the details…just know that I haven't forgotten my commitment to helping you get your creative juices flowing! I just got bogged down for a bit with life matters.
I'm back and staying on track! I figured I should show you my Paper Pumpkin Alternate for our Club's April kit before May's Paper Pumpkin Possibilities Blog Hop goes live tomorrow.
I really, really liked this Distinktive stamp set and so did my ladies!! What an amazing flower! The card I made was inspired from a shirt that I own! It's a Lularoe shirt and I got a compliment from Dr. Andy about it. All of a sudden, I knew I wanted to use it to make a card with the new kit! How funny is that?
So, I did!
I used a black card base, stamped on Whisper White with Cherry Cobbler and then cut the cardstock into strips. When you lay down the strips, start at the top, then bottom and work your way in. It's not as easy as one might think. Spacing is tricky.
I fussy cut the leaves after stamping them with Mint Macaron. I also fussy cut the flower. I added a Pearlized Doilie then layered the flower and leaves, added a knot of Cherry Cobbler Double Stitched ribbon to one of the extra tags that I stamped Thank you on. Then, using dimensionals on the back of the tag I laid it on the side of the flower and it was finished.
Simple-ish, yet satisfying. I think it is also kind of striking, if I do say so myself! The ladies at my Paper Pumpkin Club loved it and that is what counts!
Inside, I 'stamped off' on my scratch paper which gave the ink a softer hue:
I also taught them to make envelopes with the Envelope Punch Board! Such an amazing tool!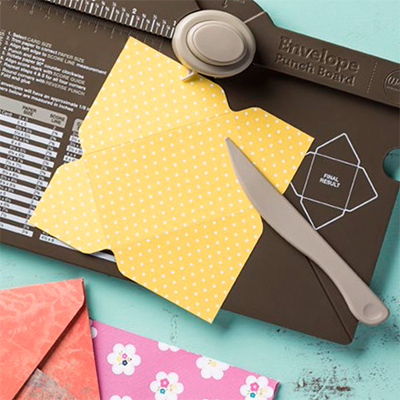 We embellished our envelopes with the stamps
And then ran them through the Big Shot with embossing folders! So, even though we only use copy paper to make our envelopes, they are gorgeous and fun and bring joy to our card recipients!
Oh, and yes, I use copy paper for envelopes. What do people do with envelopes? Save them? Why, No. They rip them up and throw them away. Copy paper works perfectly and it's much cheaper than fancy envelopes. Yes, there are times when I order the special ones, but for day-to-day envelopes, copy paper is my go to paper!
Thank you for hanging in there with me! Also for reading and taking this crafting journey with me! It's nice to have you along! Enjoy your Stampin', Scrappin', and Craftin' journey and feel free to share and CASE with me! I love to see what others create!
Until June 10th…don't miss out! Click Now on the banner to see a sneak peek of June's kit!
If you liked what you saw…then you will definitely want to sign up for Paper Pumpkin! 
Contact your demonstrator to get started or
CLICK HERE*
to subscribe with me as your demonstrator. 
Current Happenings with Stampin' Up! Click on any picture to get more information!
Retiring List…all items will not be in the new upcoming Annual Catalog. Get them while supplies last or until June 3. Don't wait! Click on the picture now to see what is not coming back!
Until June 3, 2019
If you were still wanting some items from the Holiday catalog…check this out…until June 3rd!
Updated regularly! Check often! While supplies last!
Ongoing
Click on the picture to watch a video about the: