PPP Blog Hop – Winter Woods
Howdy!
Yay! It's that time again…Paper Pumpkin Possibilities Blog Hop!! We get to show off our alternates for this month's amazing kit! I know everyone is adoring those trees, but I veered off in a different direction.
Here is the card designed for the October kit – Winter Woods:
It's a lovely card and I will probably make most of them just like this to make my Christmas card making time go faster! I make about 100 Christmas cards that I send out to family and friends, so any quick help from Paper Pumpkin is appreciated!
I wanted to use the lovely sparkly paper after taking out the trees to make something. Actually, I got the idea of using the scraps to create other shapes from my friend Crystal. She cut out balloons, banners, and stars…I saw it for the perfect paper for snowflakes!
I love snow and snowmobiling! During our first winter here we did our first snowmobile run to an area only for snowmobiling. It was so gorgeous! So, I chose to make a scrapbook page. I'll make more pages to include more pictures, but at least I got it started. I have a good picture in mind for the oval…just didn't have it printed out yet (the only drawback of digital pictures…you don't print them out as fast!)
The snowflakes and branch came from the Seasonal Layers dies that coordinate with the Colorful Seasons stamp set.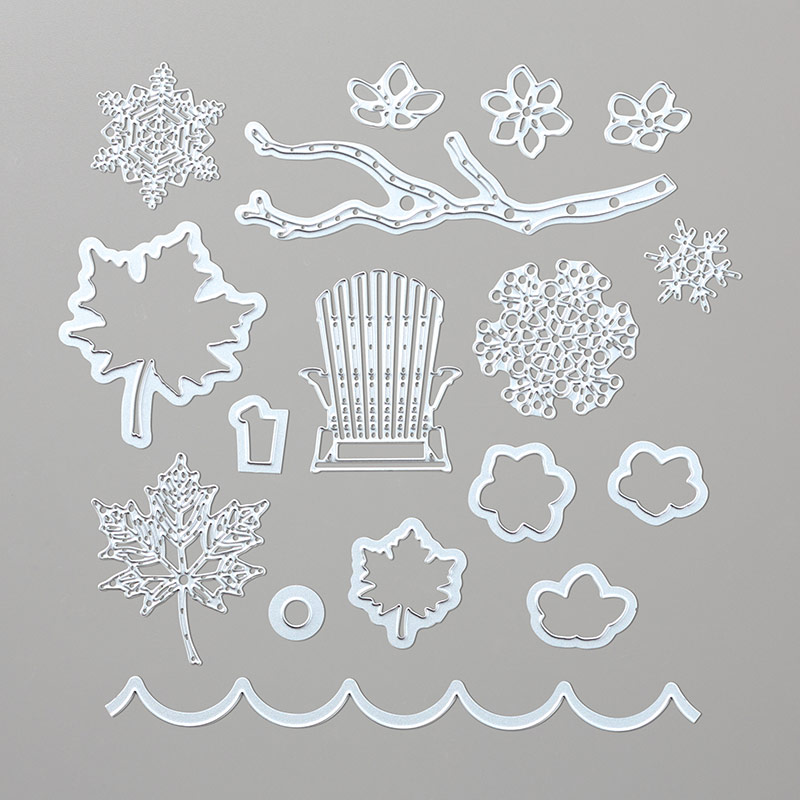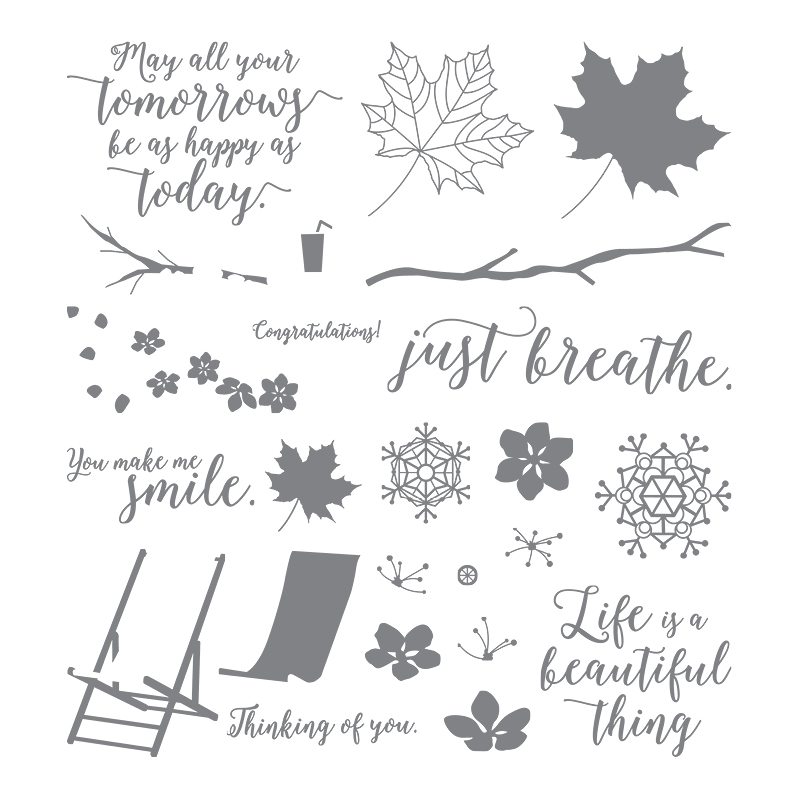 On a 12×12 piece of Night of Navy cardstock, I used 1 of the envelopes and cut it open to have the wood background, then I cut the trees from the card out in an oval and will put a picture inside the oval to hide the Shaded Spruce background. I also did a frame of falling snow using the stamp and white embossing powder. That was the largest embossing area I had ever done! It kinda curved my paper…not sure what I could do differently…if you know…please comment below!
Well, what do you think? I am pretty happy with it! Felt good to scrapbook again! Will be doing more soon!
Now it is time for you to hop on over to Darla Watson's page and see what fantastic alternate she came up with! Come on back later and you can check below for specials and supply list.
Thank you for reading and taking this crafting journey with me! It's nice to have you along! Enjoy your own Stampin', Scrappin', and Craftin' journey! Please leave a comment and let me know your thoughts about this project. Feel free to CASE my projects and share them in the comments below! I love to see what others create! 
Supplies Used
  Click on any item you want to check out and it will take you to my store and show you pictures and prices. If you don't currently have a demonstrator, I would be blessed to have you as a customer!
October Paper Pumpkin kit
When you place an order, please use the October Hostess Code VT99VYTG.  Any orders of $25 or more will receive a handmade 'Thank you' card from me! 
If you place an order of $150 or more, please enjoy your well earned rewards and a handmade 'Thank you' card from me!! Thank you so much!
You all know I LOVE, LOVE, LOVE Paper Pumpkin so CLICK the picture below to see the cute new video they made!
Here is a great reason to Subscribe Before November 10th! Below is a description of what you are going to get…well, sort of… 😉
November Kit details:
Makes 24 holiday-themed gift tags of 4 various sizes and designs.

Coordinating colors: Early Espresso, Pool Party, Poppy Parade, and Shaded Spruce
If you like what you see then you will definitely want to sign up for Paper Pumpkin! Contact your demonstrator to get started or CLICK HERE* to subscribe with me as your demonstrator. I would be happy to have you in my Paper Pumpkin Club!
Ready for the holidays this fall? Check out the awesome new Holiday Catalog! Just CLICK on the picture and be whisked away to stampin' dream land!
Updated regularly! Check often! While supplies last! They just put STAMP SETS on here for the first time…click on the banner and go check them out! Remember to use the Hostess Code, please!
Click here to go to the New Annual Catalog! Get ready to drool!
🙂
Ongoing
Click on the picture to watch a video about the: